Digital Boomers was created by RETHINK Partners who together with Essex County Council convened a group that included representatives from local county and district councils, NHS, Essex Fire Service, the adult social care organisations and the voluntary sector across the county. They then asked "How can technology be better used across Essex to promote independent living for older people?"
What emerged from this research was a bold shared vision: "By 2021, older people in Essex are the most tech confident in the world." 
Digital Boomers is a coalition of pioneering citizens, health, care and academic professionals across Essex who are committed to improving digital skills for the health and social care workforce and for over 55s and people with disabilities to help them live more independently, and be more tech confident. They have the below aims:
Digital skills for all citizens over 55, with them confident and capable about technology as a core part of life 
Technology as a first line response for health and care
Our working, care and living environments support a digital first approach
Spaces and opportunities created for people to explore and enjoy technology
Essex as a leading destination for innovators and independent living technology in practice
Investment in the community and voluntary sector so they can participate as equal partners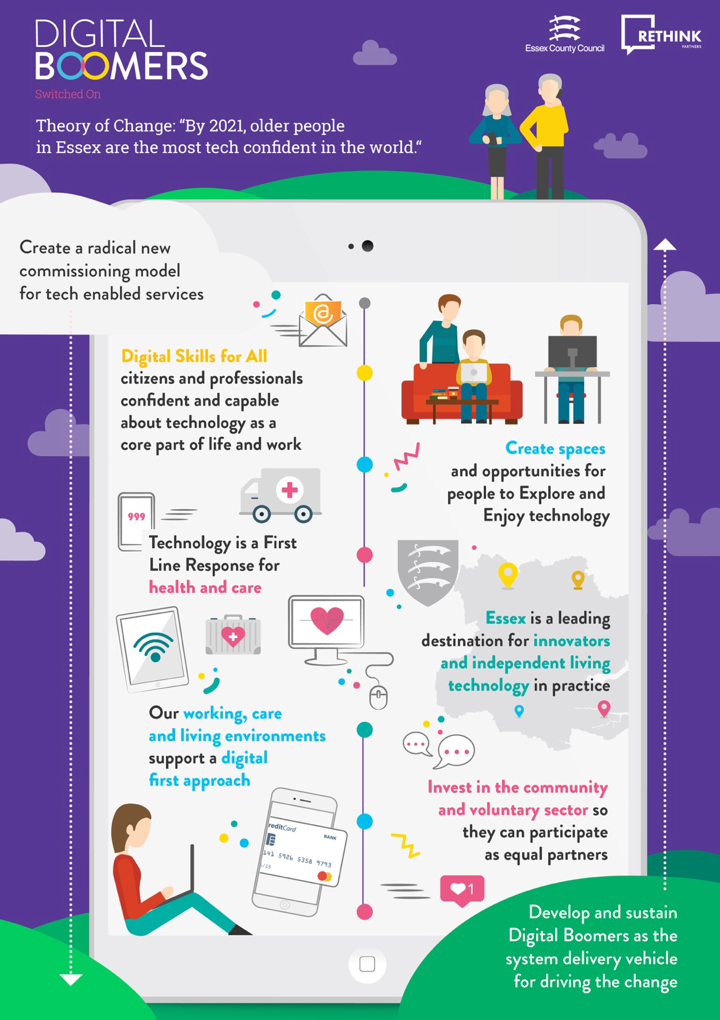 Digital Boomers was awarded funding from the Department for Digital, Culture, Media and Sport (DCMS) Digital Inclusion Fund in 2019 to pilot activity to support its ambition in West Essex. A Digital Buddies scheme to support digital skills development, and a Living Smart Homes pilot project were set up and continue to be run by Council for Voluntary Services Uttlesford (CVSU). 
Living Smart Homes in Essex
Superfast Essex visited three of the Essex smart homes helped by Digital Boomers to meet the residents whose lives have been transformed with the help of smart technology. Their video stories are available to watch below. 
If you would like to visit an Essex smart home to see the technology in action or find out more about how smart technology could help you or someone you know, contact Digital Boomers.
Elizabeth, 91, from Epping, has room sensors, an Alexa smart speaker and access to a concierge service on a care tablet which helps her shop online and speak to her family who live far away.
Ray, from Stebbing, has an Alexa smart speaker which controls a Ring doorbell and lights around the house. He also has access to a care tablet and panic buttons around the house to call his wife and carer, Pat, easily if he were to fall or need help.
Merle, 84, from Dunmow, has an Alexa smart speaker and an Acticheck wristband to keep her safe and well at home. Every morning she presses a button on the wristband to let her family know she is ok and can use it to alert them she needs help if she had a fall.