Programme brings broadband to 100,000 premises
The Superfast Essex broadband programme has reached a new high, enabling 100,000 homes and businesses to access superfast broadband.
The new headline milestone is the latest achievement in the fibre infrastructure rollout being coordinated by Essex County Council in partnership with network operators Openreach and Gigaclear. It means 100,000 more Essex homes and businesses can now access superfast speeds of 30Mbps and above.
The news comes as the Department for Digital, Culture, Media and Sport announces the nationwide superfast broadband rollout, led by Broadband Delivery UK (BDUK), successfully achieved its target of providing at least 95% of the UK with access to superfast broadband by the end of 2017.
Superfast Essex has helped contribute to this national target, and the Openreach rollout in the county continues to be three months ahead of schedule. In total more than 385km of fibre cabling has been installed under the subsidised deployment programme across the county – three and a half times the length of the English Channel which is also roughly the same as the distance from Earth to the International Space Station.
Essex County Councillor Kevin Bentley, Deputy Leader and Cabinet Member for Economic Growth, Skills, Infrastructure and the Digital Economy, said: "Superfast Essex has made tremendous progress in helping our county become better connected and reaching 100,000 homes and businesses is a phenomenal milestone. We are not complacent and know there is still more to do but this is a fantastic achievement and one we should be proud of."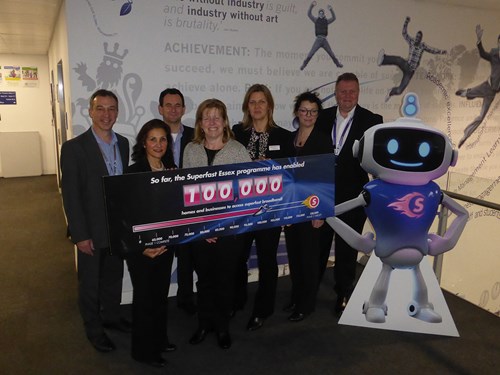 Essex County Council's Superfast Essex programme celebrates 100,000 milestone with Openreach and Gigaclear. (Left to right: Ian Frost, Superfast Essex Contract Manager (ECC); Rowena D'Rosario, Openreach Programme Manager; Joe Frost, Gigaclear Business Development Director; Liz Southard, Gigaclear Project Director; Connie Kerbst, Superfast Essex Senior Programme Manager (ECC); Emma Wood, Openreach Infrastructure Delivery Team; and Tony Smith, Openreach Senior Project Manager)
The Superfast Essex programme is ongoing, with work planned to reach more than 144,000 homes and businesses in total by early 2020. Further work, seeking to address the remaining gaps in coverage by the end of 2021 is currently being commissioned.
Minister for Digital Margot James, said: "Superfast Essex has done a tremendous job rolling out superfast broadband to more than 100,000 homes and businesses to date. We have now taken superfast broadband to 19 out of 20 UK homes and businesses, but we want everyone to have access to fast, reliable and affordable broadband and we are reaching thousands more properties every single week."
Clive Selley, Openreach CEO, said: "Everyone at Openreach is determined to deliver decent broadband speeds to every home and business in Britain. That is our mission, and we won't be happy until every property from Land's End to John O'Groats has access to decent speeds. Today represents an important milestone in this mission, and it's important for me to recognise the huge  contribution of our engineers and planners in what has been a titanic and complex engineering project in getting superfast broadband to 100,000 Essex homes and businesses at the same time as we celebrate getting it to 95% across the nation. This is on top of the Openreach commercial roll out which has given 600,000 Essex homes and businesses access to the technology.
"More than 27 million homes have been upgraded since 2009, and the UK now enjoys faster speeds, and broader coverage than all of the major EU economies. I'm proud that Openreach people have played the leading role in one of Britain's great, unsung engineering achievements."
Brett Shepherd, Gigaclear Chief Operating Officer, said: "This is a fantastic achievement and one we're thrilled to have been part of. Our focus is ensuring that often forgotten about rural communities have access to the latest and very best broadband technology. Through our full fibre to the premises offering, we have not only delivered on superfast speeds, but have connected some areas in the county to future proofed ultrafast speeds of over 300mbps. This brings Essex into the 21st Century, and stands as an example of the kind of technology that is vital for the UK's digital economy."
To find out if your property is due to be upgraded as part of the Superfast Essex programme's rollout plans, check the Superfast Essex interactive map which displays address level information: www.superfastessex.org/maps.
Anyone not currently due for an upgrade can register their demand for faster broadband by completing the Make the Connection Survey: www.superfastessex.org/registerdemand.