Super Sam Digital Challenge Badge
The Super Sam Digital Challenge Badge, fronted by the Essex County Council broadband programme's mascot Super Sam, is open to all Essex members of Girlguiding Anglia to complete between now and 31st January 2019.
To achieve the Super Sam Digital Challenge Badge, members of Rainbows (age five to seven years), Brownies (age seven to 10 years), Guides (age 10 to 14 years) and Rangers (age 14 to 18 years), from within the three Essex county regions of Girlguiding Anglia (Essex North East, Essex South East and Essex West) must complete a selection of compulsory tasks followed by other age appropriate digital tasks.
It is one of a number of initiatives being supported by Superfast Essex and Essex County Council to help encourage people to do more digitally and raise awareness of the possibilities of what can be achieved online as public and private services are increasingly being transformed to digital platforms.
One of these is the Essex-wide Digital Boomers initiative which is aiming to help older people in Essex live more independently with the help of digital applications and assistive technology so that by 2021, older people in Essex are the most tech confident in the world.
As superfast broadband coverage is increasing across the county, driven by the Superfast Essex programme's subsidised rollout, Essex County Council wants to encourage the county's residents to subscribe to the upgraded internet services and benefit from the opportunities offered by faster connectivity.
Councillor Lesley Wagland, Deputy Cabinet Member for Infrastructure, said: "We want to make sure people make the most of the new infrastructure we are building and also help to highlight the opportunities and capabilities that come with digital access.
"As public and consumer services are increasingly becoming digitised it is important we don't leave anyone behind and help now to avoid social isolation due to lack of digital skills or confidence.
"Super Sam's Digital Challenge Badge is a brilliant initiative and just one way we're striving to help tackle this real life issue. I wish everyone good luck in completing the challenge."
A selection of Rainbows, Brownies, Guides and Rangers from across the region came together with their parents, grandparents and great grandparents at Chelmsford Library at to mark the launch of the badge and start the challenge.
Maxine Jones, Marketing lead volunteer at Girlguiding Anglia, said: "Girlguiding Anglia is very excited to be working in partnership with Essex County Council and Superfast Essex. It gives our young members the opportunity to take part in an important project to support older people to go digital. Girlguiding members have always supported their local communities and this partnership is bringing that support into the 21st century.
"We also hope digital partnerships like this may also encourage girls to develop new technology skills which inspire them into STEM careers such as computer programming or engineering which our most recent Girls' Attitude Survey, highlighted as being considered 'more for boys'."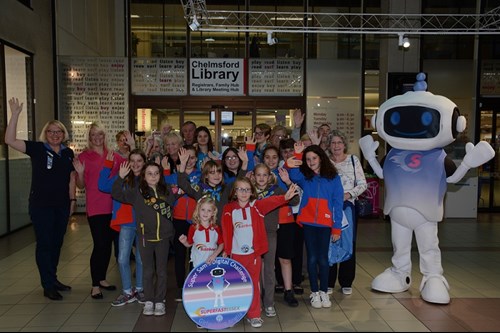 The tasks in the challenge require the young person to ask their older relative or friend (age 65 years or older) a series of questions about their views on digital services, their understanding of what can be done online, the barriers to going online, and what would encourage them to use the internet. They then must select several other age-appropriate tasks to complete with their older relative or friend from a list which could include assisting with navigation using Google maps, downloading an app, using online video calling to communicate with a friend or relative, browsing or shopping online, reserving a library book online, or setting up an event in a local community centre to showcase the use of e-books, streaming music or film (Superfast Storytime/Singalong/Cinema Session).
All Girlguides who complete Super Sam's Digital Challenge Badge will receive a badge for their achievement. All will also be entered into a prize draw to win an Amazon shopping voucher after the challenge is completed in January 2019.
To find out more about Super Sam and the Digital Challenge Badge visit: www.superfastessex.org/supersam and view the Digital Challenge pack on the Girlguiding Anglia website.
More pictures from Super Sam's Digital Challenge Badge Launch event are available in our Superfast Essex Facebook album and at www.facebook.com/GirlguidingAnglia. Girlguiding Anglia's video of the launch event is also available on YouTube. 
To find out if superfast broadband is available or coming to you, check your address on the Superfast Essex interactive map: www.superfastessex.org/maps. Remember, nobody is automatically connected to a superfast service once it's available – ask your provider to switch!