Super Sam's third Essex visit
Superhero Super Sam was given a warm welcome when he made a special appearance at the Tendring Hundred Show to raise awareness of the work which has happened so far to upgrade broadband services in the Tendring District.
After visiting Colchester Borough and Chelmsford City earlier this year, Super Sam's appearance in Tendring marked his third journey stop of the year. His mission is to champion superfast broadband on behalf of Superfast Essex, the county's broadband improvement programme co-ordinated by Essex County Council, and highlight where superfast broadband is available.
At the Tendring Hundred show on Saturday, 9th July, Super Sam met hundreds of people giving them the opportunity to ask questions about superfast broadband in their area.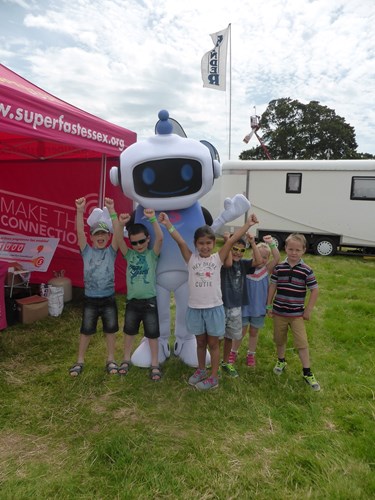 Super Sam with friends he met at the Tendring Hundred Show
Super Sam and his team are bringing increased broadband speeds capable of 24Mbps and above to many rural communities.
Super Sam said: "The Tendring Hundred Show was a great day for families and I got to meet so many wonderful people and have my photo taken with them. I even got to meet some of the dogs who took part in the show! I wanted to make sure that people living and visiting this area knew how to get connected now the new technology is becoming available. There are a lot of people out there who need to study or access information online, and want to keep in touch with family and friends by video-calling, or watch the latest films and TV shows without interruptions and without buffering. It's my duty to help communities get up to speed."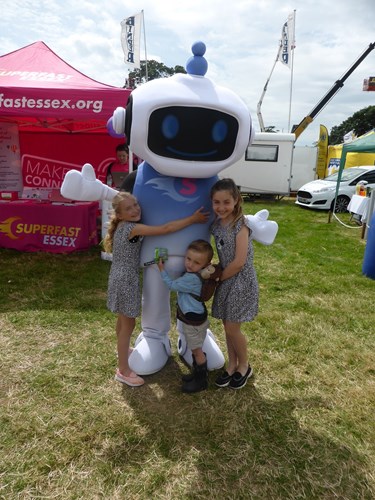 Super Sam with Summer, Eden and Porter
At least 37 cabinets in 12 different exchange areas in the Tendring District have been upgraded to fibre already. The full list of live cabinets is at: www.superfastessex.org/cabinets. As work is completed to upgrade the broadband network to provide superfast speeds, no homes or businesses are automatically connected – customers will need to contact a broadband service provider and ask to switch or buy a fibre broadband service.
Essex County Councillor Penny Channer, Deputy Cabinet Member for Broadband and Enterprise and Superfast Essex Steering Board Chairman, said: "With Phase 1 of the Superfast Essex programme now complete, over 65,000 homes and businesses now have access to superfast broadband and we need Super Sam's help to let Essex residents know where superfast broadband is available and tell them what they need to do to access it. The fact we've already upgraded 37 cabinets in 12 different exchange areas in Tendring District is a great achievement and there's still more to come in Phase 2 of the programme."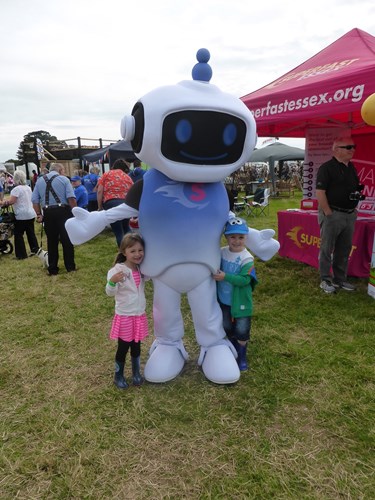 Super Sam with Imogen and Ethan.
Find out more about Super Sam's journey across Essex and watch him in action at:www.superfastessex.org/supersam/.
Find out the latest broadband rollout information for your area at www.superfastessex.org/maps. Anyone not covered by the Superfast Essex programme can register their demand for superfast broadband by completing the Make the Connection Survey at www.superfastessex.org/get-involved/.
View our photo album on Facebook.