Superfast Essex is rolling out full fibre broadband to addresses across the county
Essex is on its way to becoming one of the best-connected counties in the country, thanks to the roll out of ultrafast, full fibre broadband.
Essex County Council's broadband improvement programme, Superfast Essex, is one of the main drivers helping to future-proof homes and businesses across the county.
To date, the programme has reached nearly 140,000 addresses with broadband speeds of at least 30Mbps. Nearly 20,000 of these have been connected to ultrafast full fibre, offering speeds up to 1,000Mbps, or 1Gbps, with plans to reach a further 7,000 by spring 2022.
Full fibre is a copper-free broadband connection offering gigabit-capable speeds. It is based on fibre-to-the-premises (FTTP) technology, which uses fibre optic cables for the entire journey from the telephone exchange to the property.
In practice, this means homes and businesses can connect multiple devices and carry out video calls, upload files and stream a HD movie simultaneously.
The government wants 85% of homes and businesses to have access to full fibre (gigabit-capable) broadband by 2025. Under the national £5bn Project Gigabit investment programme, Essex will be one of the first counties to benefit from a new injection of funding to bring these faster connections to parts of the county, where commercial investment is not viable.
The first step for the investment is to gain a better understanding of people's connectivity needs and what broadband speeds are available to them. As part of this, Superfast Essex is inviting residents and businesses to take part in the Essex County Council Broadband Survey, which runs until 9am on Monday 3rd May.
The results of the survey will help Superfast Essex identify addresses that should be included in future state-funded broadband rollouts. This will help ensure that people in rural areas and other harder-to-reach spots are given the freedom to live and work more flexibly and play their part in the county's recovery from the Coronavirus pandemic.
PhD student Tom Charman is one of many Essex residents whose urgent need for better internet connectivity came to light during the first national lockdown in March 2020 when he was forced to work from home with a 1Mbps connection.
At a pivotal point in his studies, Tom was grappling with an internet connection so slow and unreliable he was unable to complete his final year of research. "I had to download things onto my computer over many days and then do what I could locally," he says.
Tom had to apply for extra funding from his university to make up for the time he'd lost and was even considering moving, but then he discovered network operator Gigaclear were laying fibre optic cables in his area as part of Superfast Essex's full fibre rollout. 
Tom is now signed up to a full fibre service, which has dramatically changed how he is able to work: "I can do everything now! I can participate in meetings and give a presentation and not worry about getting cut off halfway through or people not being able to hear me properly."
He adds: "I still find it unbelievable that I live so remotely but I have some of the fastest internet in the country," he says.
To find out more about full fibre, visit www.superfastessex.org/fullfibre
Read Tom's full story here.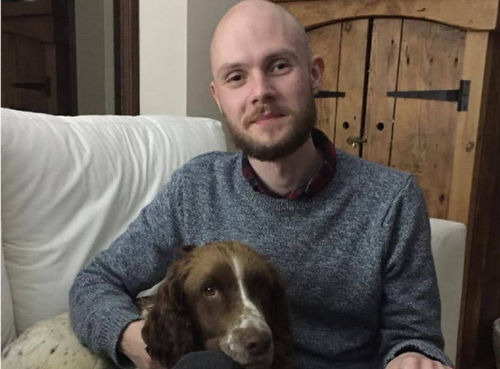 Tom Charman