Superfast broadband going countywide
Communities from across the county united to find out more about Essex's broadband improvement programme and take part in an in-depth Q&A session.
More than 80 parish and town council representatives and community leads from across Essex attended the Countywide Superfast Essex Parish Engagement Event hosted by the Essex County Council team, supported by delivery partner BT, at the Essex Record Office.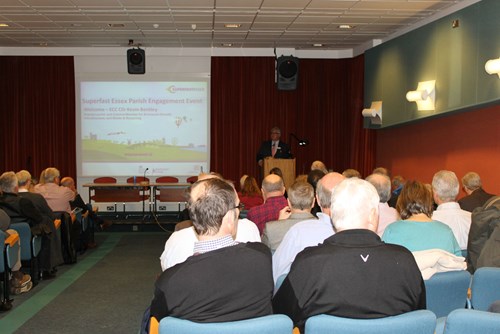 The event provided an opportunity for attendees to hear an update on the current rollout progress to date, the deployment challenges faced, and gain some insight into how the Phase 2 plans will be developed and when and how more detail on Phase 2 will be shared.
The current programme is on track to enable 87% of homes and businesses in Essex access to superfast broadband by the end of summer 2016. Phase 2 is aiming to extend this to 95%.
Essex County Councillor Kevin Bentley, Deputy Leader and Cabinet Member for Economic Growth, Infrastructure, and Waste & Recycling, said: "It was good to see so many parishes showing an interest in the Superfast Essex programme and making use of this opportunity to learn more.
"There is a lot of information for communities to understand and I wanted this event to provide a chance to allay some of the myths and misconceptions about what this programme is working to achieve. I believe this has helped and hope the team will be able to do this again in future."
The audience heard presentations from members of the Superfast Essex team from Essex County Council and BT and heard how to get involved, access information and provide local insight to inform future publicity and event planning.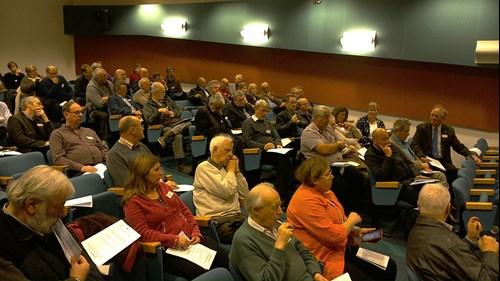 The presentations were followed by a Q&A session which helped the team to understand the key issues of interest among communities and will help to shape future messages as the programme progresses. 
Some of the highlights included understanding how broadband speeds are determined, the need for planning requirements to ensure new building developments include broadband provision, identifying the options available to communities in case they are not served by Phase 2, and reminding everyone to look for the Superfast Essex cabinet stickers and check the Superfast Essex website to find out if their cabinet is ready for service.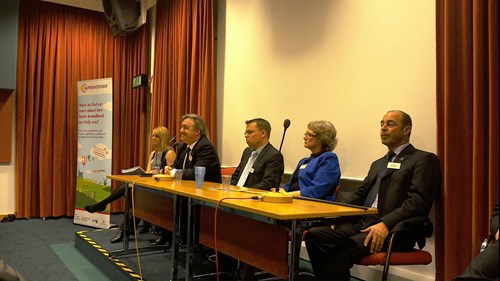 Following the lively discussion and positive feedback from the event, the Superfast Essex team is planning to hold a number of similar events within the next year.
To find out if your area is due for a broadband upgrade in Phase 1 visit, www.superfastessex.org/interactive-maps/. To register your demand for superfast broadband, visit www.superfastessex.org/get-involved/.